RAMW Grand Tasting Pavilion
Pavilion Details
Sample and sip exclusive, hand-picked bites from 50 of Washington's hottest restaurants – for a good cause! A portion of proceeds from the Grand Tasting will benefit Educated Eats. Educated Eats is committed to promoting the restaurant and food service industry as a career of unlimited opportunity.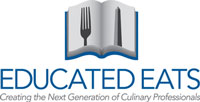 Ticket Details
Ticket includes: Entry into the pavilion, tastings, as well as complimentary General Admission. Valid Sunday, December 10th.
Hours
The RAMW Grand Tasting Pavilion is open from 12:00 pm – 3:00 pm. Your wristband will allow you to enter and exit as you please. The exhibit floor is open Sunday 10 am – 5 pm.
2016 RAMW Grand Tasting Restaurants
Restaurant Application
Want to serve your bites in the pavilion? Tables are limited! Reserve yours today.
Click here for the table reservation form.
Click here for more details.
Questions? Email: zimmerman@ejkrause.com